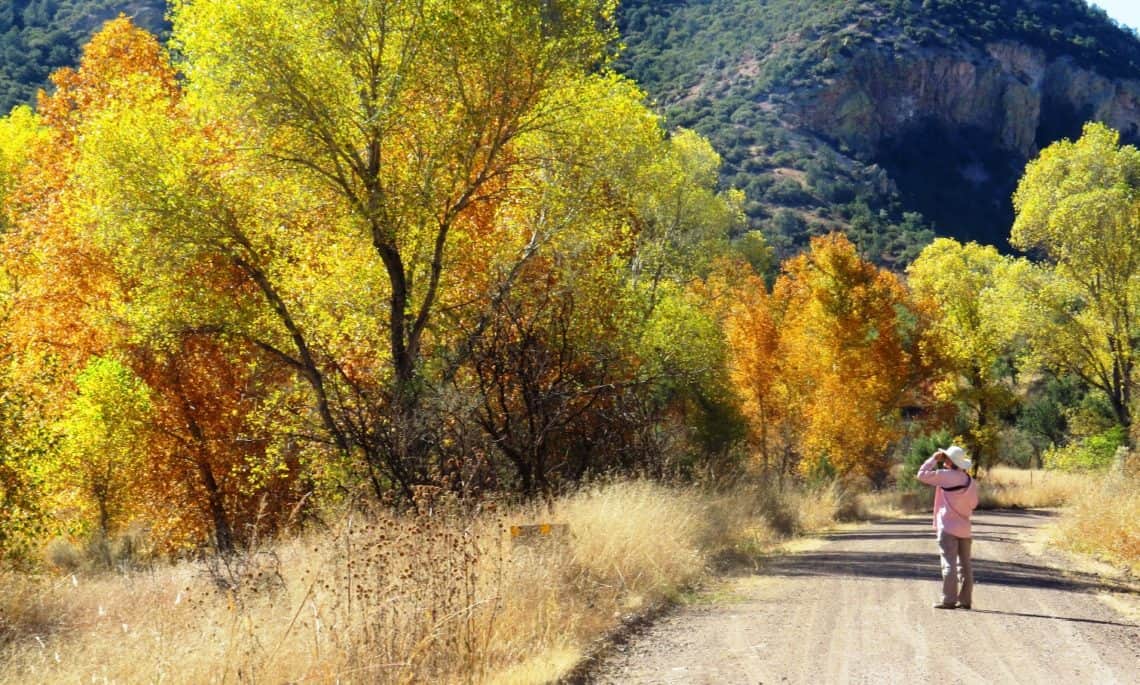 By Tice Supplee, Director of Bird Conservation for Audubon Arizona
As the U.S. partner for BirdLife International, Audubon spearheads an ambitious effort to identify, monitor, and protect some of the most important places for birds in the United States, the Important Bird Areas Program. Audubon has identified 48 sites in Arizona, 17 of which are considered to be of global, and two of continental significance. Additional information about the national program can be found at the National Audubon Society website.
The Arizona Important Bird Areas Program (AZ IBA Program) was established in 2001. Audubon Arizona works in partnership with Tucson Audubon Society, the Arizona Game and Fish Department (through the Arizona Bird Conservation Initiative), the Sonoran Joint Venture, Intermountain West Joint Venture, federal and state agencies, land trusts, and various non-governmental organizations, colleges, and universities. A major goal of the AZ IBA Program is to engage the public, create a higher awareness of the value of these habitats, and the need to conserve them.
There is a strong citizen-science component to the AZ IBA Program, with much of the data used to create new IBAs and monitor existing IBAs coming from surveys conducted by trained volunteer surveyors. The program does utilize other sources of data such as e-Bird, Christmas Bird Counts, Breed Bird Survey Data, as well as data collected by agencies. Decisions regarding new IBAs are made by the Arizona IBA Science Committee comprised of researchers and managers from around the state. The committee reviews submitted nominations for new IBAs and decides if the data is compelling enough to warrant a state level IBA designation. A State IBA can then be elevated to a Continental or Global IBA if a species of Continental or Global Concern is documented in high enough numbers. This is a specific list of birds with thresholds determined by a North American Committee. For instance, a State IBA can be designated Continental if 120 Elf Owls are shown to be present.
The Sonoran Joint Venture has included IBAs in the United States and Mexico in their Bird Conservation Plan as Focus Areas. Arizona is creating mini-conservation plans for each IBA to highlight conservation strategies and actions, and identify opportunities for public engagement.
The newest additions to the Arizona IBA program are all located in Southeastern Arizona. It should be no surprise that this region of our state has a rich and diverse avifauna!
The Patagonia Mountains in the Coronado National Forest support an extensive oak-juniper biome. With many canyons and drainages lined with sycamores and other riparian vegetation, it provides nesting sites for Elegant Trogons and Western Yellow-billed Cuckoos. This IBA provides habitat for Madrean Occidental "Sky Island" breeding and resident birds as well as acting as an important stopover point for migrants. The IBA survey teams found 115 species of birds in the Patagonia Mountains. Year-round species include the Eastern "Azure" Bluebird, Montezuma Quail, Rufous-crowned Sparrow, Arizona Woodpecker, Canyon Towhee, and "Gould's" Wild Turkey. Other breeding highlights include Gray Hawk, Northern "Apache" Goshawk, Mexican Spotted Owl, Whiskered Screech-Owl, Elf Owl, Mexican Whip-poor-will, Dusky-capped Flycatcher, Sulphur-bellied Flycatcher, and five species of warblers.
The Tucson Mountains are characterized by diverse floras rich in trees and succulents of the Sonoran desert, with strong ties to Sinaloan thornscrub in Sonora. The IBA includes Saguaro National Park and Tucson Mountain Park. Sonoran desert bird species are well represented, and Gilded Flicker, Elf Owl, and Costa's Hummingbird will possibly qualify this IBA for Continental status. Other species of conservation concern are Desert Purple Martin that use cavities in the cacti as nest holes. Of note are Lucy's Warbler, Abert's Towhee, Canyon Towhee, Rufous-crowned and Rufous-winged Sparrow, and in the winter, there are significant numbers of Brewer's Sparrows.
The Las Cienegas National Conservation Area managed by the Bureau of Land Management, hosts one of the finest grassland valleys left in the southwestern US. This grassland supports a perennial stream—a rare gem of green running through southern Arizona's arid landscape. Together these grasslands and wetlands provide homes for a remarkable array of wildlife, including over 230 bird species. This IBA will be submitted for global consideration based upon numbers of wintering grassland birds, specifically longspurs. Breeding birds include the Montezuma Quail, Botteri's Sparrow, Cassin's Sparrow, Grasshopper Sparrow, White-tailed Kite, Loggerhead Shrike, and Eastern Meadowlark. Winter highlights include the Chestnut-collared Longspur and Lark Bunting.
Tucson Sky Islands includes the Santa Catalina and Rincon Mountains and is managed by the U.S. Forest Service and National Park Service. Catalina State Park is also included in this globally recognized IBA for nesting Spotted Owls. Mixed-conifer forest and Madrean pine-oak woodlands plus upland Sonoran desert support a unique and diverse avian community. The highest densities of breeding birds are concentrated in a relatively small number of drainages that contain montane riparian vegetation. Bird species of conservation concern are Northern Goshawk, Yellow-eyed Junco, Gould's Wild Turkey, Red-faced Warbler, Grace's Warbler, Olive Warbler, Buff-breasted Flycatcher, Elf Owl, Whiskered Screech-Owl and Mexican Spotted Owl. The presence of Gilded Flicker, Elf Owl and Black-chinned Sparrow may lead to Continental status for this IBA.
Learn more about each of Arizona's IBAs with information on how to best visit each IBA, site and conservation information, and the birds that make each area special.