Snowy Plover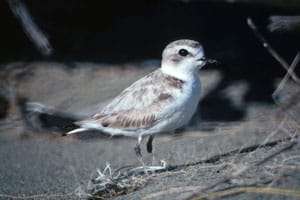 The Western Snowy Plover is a small shorebird that nests in the open, and on open ground. It is listed as Threatened in the United States and Mexico.
Beach-front development is one of the biggest threats to this declining species, destroying critical habitat. In addition, the use of beach grass to stabilize dunes has also reduced the amount of available open habitat for nesting. Frequent mechanical raking of beaches for removal of garbage and other debris makes beaches unsuitable for nesting and probably harms food resources by eliminating substrates supporting flies and other invertebrates important in the birds' diet (Page et al. 1995).
Disturbance at nest sites is another critical threat for Western Snowy Plovers. The nest is just a depression in the sand, lined with beach debris and easily overlooked by tourists. Incubating birds run from approaching vehicles, humans, and pets, who may inadvertently step on/run over eggs or nestlings. Camping and other beach activities in close proximity to nests may also cause the adults to flee, allowing predators to eat eggs or nestlings.
SJV partners in Mexico are working to better understand the distribution of this threatened species, restore habitat, develop mechanisms to protect nesting birds, and conduct outreach to help protect the Western Snowy Plover.
Important Birds of the Sonoran Joint Venture