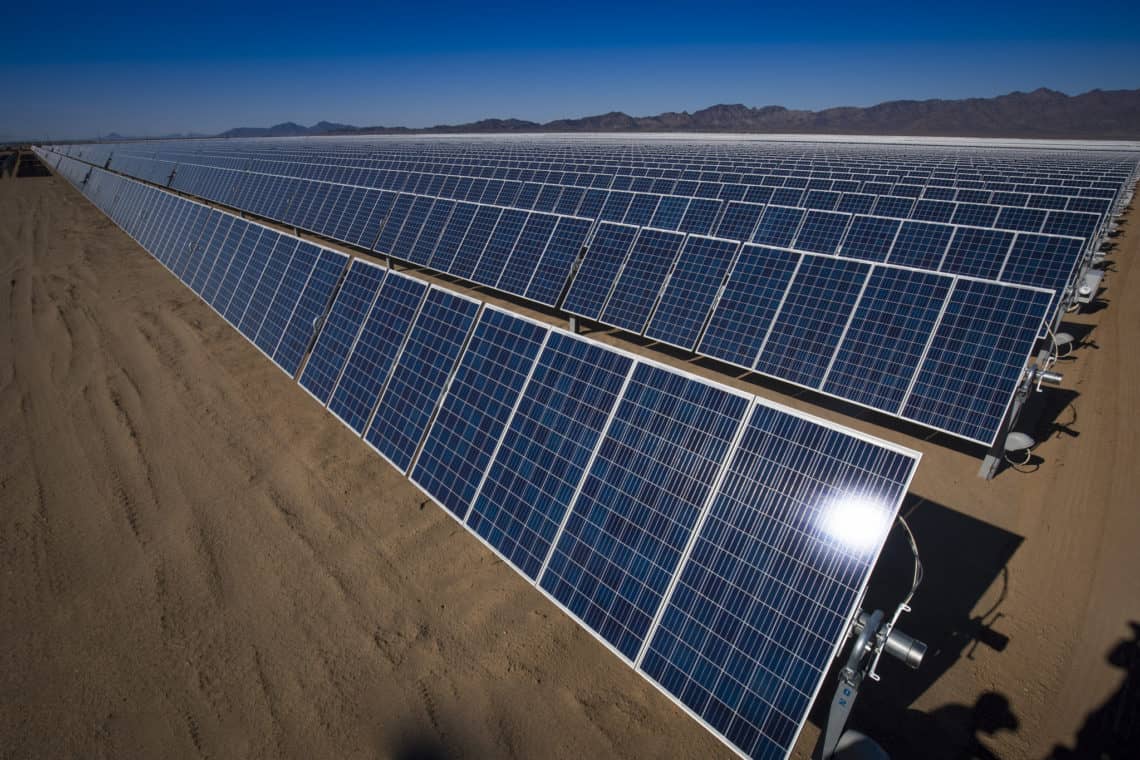 Renewable Energy Development in the California Desert (Photo courtesy of Tom Brewster Photography and the BLM).
By Jennie Duberstein
Increasing demand for alternative energies like wind and solar bring increasing pressure on wildlife and their habitats. Finding a balance between the need for more sustainable energy sources and conservation of the delicate desert ecosystem of the southwestern U.S. is an ongoing challenge.
Two collaborative partnerships are currently working to bring people together to address this complex issue. On August 16, 2017, a public symposium provided a forum to discuss science-based research on avian-solar interactions. The symposium was jointly hosted by the Multiagency Avian-Solar Collaborative Working Group and the Avian Solar Working Group.
Over the course of the full-day of presentations and discussion, presenters from industry, the non-profit world, and government agencies shared the results of their work. This included broad overviews of the issue, methods to evaluate the impacts of solar development on birds, mechanisms for better understanding avian-solar interactions and how to mitigate them, and resources available to help study and address this issue.
The impacts of solar energy development on birds and other wildlife is a key part of the upcoming revision to the SJV Conservation Implementation Plan. Particularly in the Arid Borderlands area of the SJV, solar energy development is either already impacting, or has great potential to impact birds and habitat across wide expanses. The SJV has been partnering with agencies like the Bureau of Land Management, U.S. Fish and Wildlife Service, and private industry to determine where development might occur so as to minimize negative impacts on birds, as well as what mitigation would be most appropriate, and where it might take place. We worked with Cooper Ecological Monitoring to develop a solar energy mitigation strategy, and are aligning it closely with the Desert Renewable Energy Conservation Plan. As a step in this process, we are working to fill gaps in knowledge about what birds are impacted (either directly or potentially) by solar energy development in southern California.
Stay tuned in the November/December eBulletin for news about our Avicaching game, where birders can win great prizes while contributing important data to help these efforts, all simply by submitting eBird checklists.
Click here to learn more about the Technical Symposium on Avian-Solar Interactions and download more information.