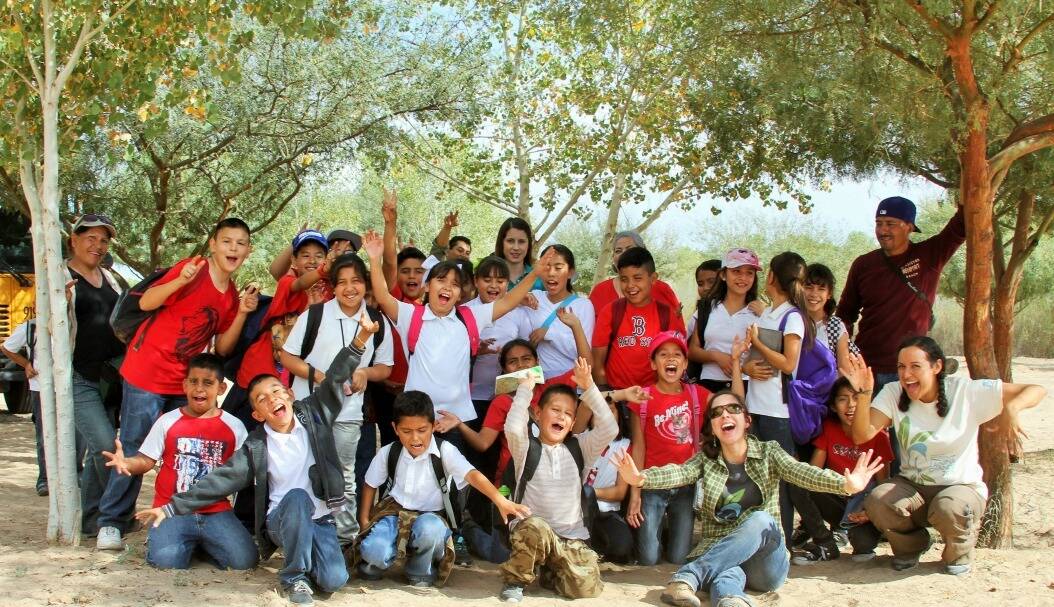 "Say Delta!" A school group leaves Laguna Grande after their first immersion into the riparian forest (Photo courtesy of the Sonoran Institute archive)
By Gabriela González Olimón, Environmental Education & Investigation Coordinator & Fatima Luna, Environmental and Natural Resource Economist of the Colorado River Delta Program, The Sonoran Institute
How does the Sonoran Institute incorporate community engagement into restoration projects?
This is best explained through a story about one of our recent environmental education field trips. A student named Marianna and her 4th-grade class visited our main restoration site, Laguna Grande. The Laguna Grande is a riparian forest located an hour south of Mexicali, Baja California. Throughout the visit, Marianna was very curious and kept asking questions that ranged from "How did the trees get so tall?" and "How many birds are here?" to "Are there any dangerous animals here?" At times, her questions were a little too much, especially considering that there were 35 other kids needing attention. Nevertheless, we made our best effort to answer all Marianna's and other kids' questions.
At the end of the visit, as Marianna was running towards the school bus, she turned around, put her hands in the air and screamed, "I love nature!" before climbing onboard.
Marianna's teacher, with tears in her eyes, thanked us for changing Marianna's life. According to her, Marianna was a student who normally didn't interact with others, didn't speak in public, and had trouble paying attention in class. However, on that day, Marianna discovered her love for nature. This helped her connect with classmates, her environment, and let her shine in her own light.
The experience that Marianna had is one of our main goals at The Sonoran Institute—to connect people and communities with their natural environment. We base our conservation efforts on three main strategies: Restore, Reconnect and Renew.
Our Colorado River Delta Program focuses on the Mexican side of the border and includes restoration of riparian, marsh and estuarine habitat. As part of our restoration strategy, we have or are in the process of, restoring 530 acres of riparian vegetation at Laguna Grande by planting cottonwood, willow, mesquite and other native shrubs. A second part of the strategy is to reconnect the river to the sea by developing innovative mechanisms to secure water for the Delta. The last part of our strategy is to renew individual and community relationships with the river and promote long-term stewardship through community engagement. We encourage ecological restoration in communities near the Delta by coordinating school and community presentations and workshops, guiding interpretive walks in our restoration sites, and leading an environmental education program.
Why is community engagement important to restoration projects?
Community engagement is a key component to foster long-term restoration results. By working directly with the local residents, we build a framework for stewardship. Through participation in projects, people become invested in their community and want to help conserve and enhance the healthy river system for the future. They can influence political will to dedicate water and other resources to Delta ecosystems.
As part of our community engagement approach, we created the Adopt-the-River program that promotes environmental awareness through in-school workshops and field trips to our restoration sites. We also launched our Family Saturday Nature Walks program where we offer guided visits to our restoration sites to promote healthy recreational options for families who live in nearby communities and typically do not visit green spaces. As one of the few green open spaces in the region, the Laguna Grande community park is now a birding hotspot for resident and migratory birds.
During the visits, families learn about our ongoing restoration efforts and the role that the Delta plays for the people in their community and the wildlife in the region. With support from our partner, Alas del Delta, a trained group of birdwatchers from the nearby community, we offer bird watching tours. Through our partnership with the Sonoran Joint Venture and their facilitation of the Donate the Guia program, we have received binoculars and copies of the Kaufman Field Guide to the Birds of North America in Spanish. We teach visitors how to use the guides and birding equipment, which furthers people's appreciation of nature.
Through all our community engagement initiatives, we reach more than 3,000 people per year. To continue to do so, we need your support!
How can you help?
• Spread the word: By reading and sharing this article, many more people can learn about our work in the Delta
• Donate: You can join the project by providing tools, equipment and other necessities for the project
• Collaborate: Share your expertise in graphic design, marketing, communications, engineering, etc. or become a volunteer in the field or at future events
•Visit us: Come explore the Colorado River Delta
For more information, visit our Facebook Page