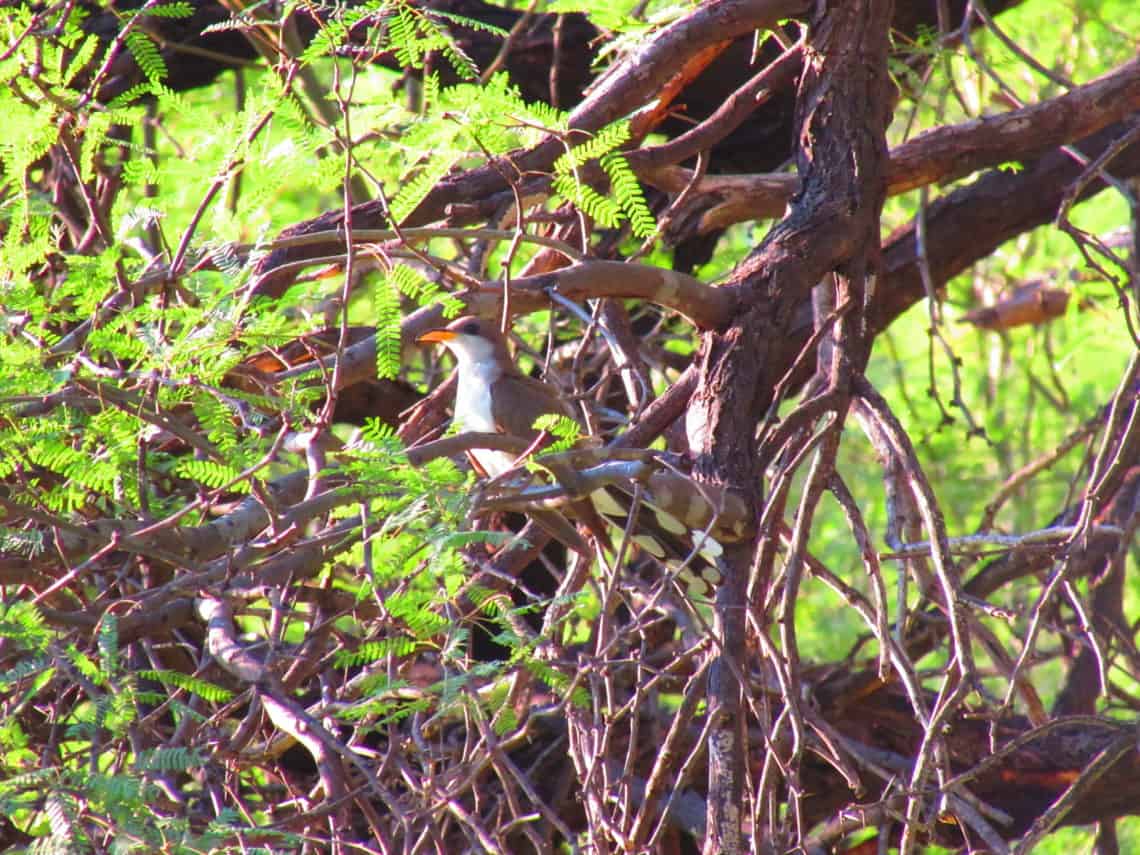 Yellow-billed Cuckoo in El Gavilán, Sonora (photo courtesy of Eduardo Sánchez).
By Carlos González Sánchez, Biologist in Sonora, Mexico
Thanks to the Sonoran Joint Venture's Awards Program, the Southern Sierra Research Station (SSRS) facilitated a Western Yellow-billed Cuckoo (Coccyzus americanus occidentalis) survey training workshop for Mexican biologists to lead surveys in Northwestern Mexico. These efforts build upon the project conducted since 2015 by the Sonora State University (UES) and the Arizona Game and Fish Department (AZGFD) to assess and learn the status of these wonderful birds in the state of Sonora.
The population of Western Yellow-billed Cuckoos has a scattered, but precise range in the western United States, only occurring in a few specific sites. Due to this small range, decline observed in some areas, and compounded by the loss of riparian habitats they depend on in the United States, it is listed as a threatened species. However, in Sonora the species is more abundant and widespread. For years, organizations such as SSRS have devoted themselves to study and assess cuckoo populations in California and Arizona. As part of understanding this species and in hopes of getting to know it better, they have been training Mexican biologists to carry out surveys in parts of Mexico in which populations have not been monitored frequently.
Researchers and students from the University of Sonora, Sonora State University, the Ecological Center of Sonora, and the Ecology and Sustainable Development Commission of the State of Sonora, had the opportunity to learn about the biology and ecology of the Western Yellow-billed Cuckoo, as well as the methodology to carry out surveys for this species during the workshop held in Hermosillo, Sonora, in 2017. Likewise, Mexican researchers and volunteers participated in field outings to carry out these surveys.
During July 2017, ten sites that showed potential suitable habitat characteristics to support cuckoos were surveyed. Four sites were surveyed by the UES team in previous years, and six were new sites. Each place was visited twice. A total of 175 Yellow-billed Cuckoos were sighted during the month of monitoring, with 15 being the highest number of sightings in a single visit. Throughout this period, there were also six surveys carried out in the south of Sonora and north of Sinaloa by volunteers that attended the workshop.
What is the conservation status of the Yellow-billed Cuckoo in Sonora? Studies by UES and AZGFD have found that it is an abundant bird and less exclusive to riparian habitats, as it commonly uses mountainsides and streams with desert vegetation. It has shown to be well distributed in northern Sonora. These results coincide with those obtained during monitoring events carried out this year with support from the SJV. By continuing these kinds of activities, we will have a better understanding of the species' population in Sonora and will be able to compare habitat use and status with populations in the US and take management and conservation actions in Sonora and in breeding areas in Mexico in the future.