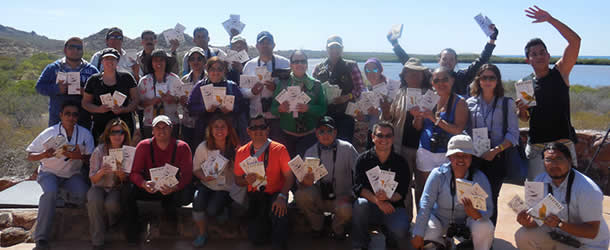 Since 1996, the Arizona Game and Fish Department has been implementing wetlands conservation workshops in Mexico. Through the years, the Department has partnered with multiple agencies and groups from Canada, Mexico, and the United States, such as the Canadian Wildlife Service, the U.S. Wildlife Service, Mexico's Commission of Natural Protected Areas (CONANP), Ducks Unlimited de Mexico A.C. (DUMAC), the Sonoran Joint Venture (SJV), the Ramsar Convention, the Society of Wetlands Scientists, several of the Pronatura organizations, and others. The wetlands workshop is part of an innovative approach to promote wetlands conservation through training, community participation and local capacity building in Mexico. Tangible results of 18 years of implementing this program in Mexico include more than 550 people trained; a wetlands training manual (once published, it will be the first wetlands textbook in Spanish); celebration of 14 World Wetlands Day ceremonies; increase in the number of wetlands in Mexico successfully designated as Ramsar sites; creation of five state wetlands committees and five bird festivals; and assistance in proposal development seeking North American Wetlands Conservation Act (NAWCA) funds.
In 2006, the governments of Mexico and the United States recognized this program with their national wetlands conservation awards.
In early February 2014, the 16th Wetlands Workshop in Mexico was held at the Estero El Soldado (north of Guaymas, Sonora), a state protected area managed by the Commission of Ecology and Sustainable Development of Sonora (CEDES) under a special partnership with CONANP. Estero El Soldado is a special area where more than 200 resident and migratory bird species have been recorded and one of the last places on the Pacific slope where three species of mangrove (red, black, and white), coexist. Because of the work of CEDES and many local organizations and individuals in the area of Guaymas, Estero El Soldado has been rescued from what it was a heavily degraded area, into one of one of the better conserved wetlands in the State of Sonora. For this years' workshop, the Arizona Game and Fish Department partnered with CONANP and CEDES, with support of DUMAC, the Sonoran Joint Venture, Conciencia y Educación Ambiental A.C. (CEA) and the Centro de Investigación en Alimentación y Desarrollo (CIAD).
Workshop participants included an enthusiastic group of twenty-seven state and federal natural resource managers, park guards, graduate students and members of non-governmental organizations. Many of these organizations and individuals have directly participated and/or benefited from SJV projects in Sonora and Sinaloa. The workshop consisted of 13 days (110 total hours) of classroom sessions and field trips presenting basic principles and techniques for classifying, defining, identifying, and understanding wetland habitats. Special focus was placed on understanding legislation, conservation and management of wetlands and the migratory and resident species living there. Field work included various techniques for assessing mangrove ecosystems, as well as practicing bird identification and conducting a mock line transect survey. Participants also learned how to upload their bird observations to aVerAves.
Workshop instructors included Francisco Abarca and Edwin Juarez (Arizona Game & Fish Department); Jacqueline García and Germán Leyva (CIAD); Rogelio Molina and Santa Nápoles (CEDES); Eduardo Gomez-Limón (CONANP Regional Office); Guadalupe de la Lanza, Instituto de Biología-UNAM; Patricia Moreno-Casasola, Chairwoman of Mexico's National Wetlands Committee, Instituto de Ecología A.C.; Santa Nápoles, (CEA) Francisco Flores, Instituto de Ciencias del Mar y Limnología- UNAM; Cristian Tovilla, Colegio de la Frontera Sur; Jim Corven, Bristol Community College, and former Western Hemisphere Shorebird Reserve Network Coordinator; Alejandro Varela and Julio Cesar Rodríguez, Universidad de Sonora; and Roberto Aviña, Dirección General de Vida Silvestre, SEMARNAT.
Special thanks to Ducks Unlimited de Mexico A.C. (DUMAC) for providing copies of their waterfowl and shorebird field guides and to the SJV and Black Swamp Bird Observatory for providing copies of the Kaufman Guía de Campo a las Aves de Norteamérica for all workshop participants. You can learn more about the "Donate the Guia" program here.