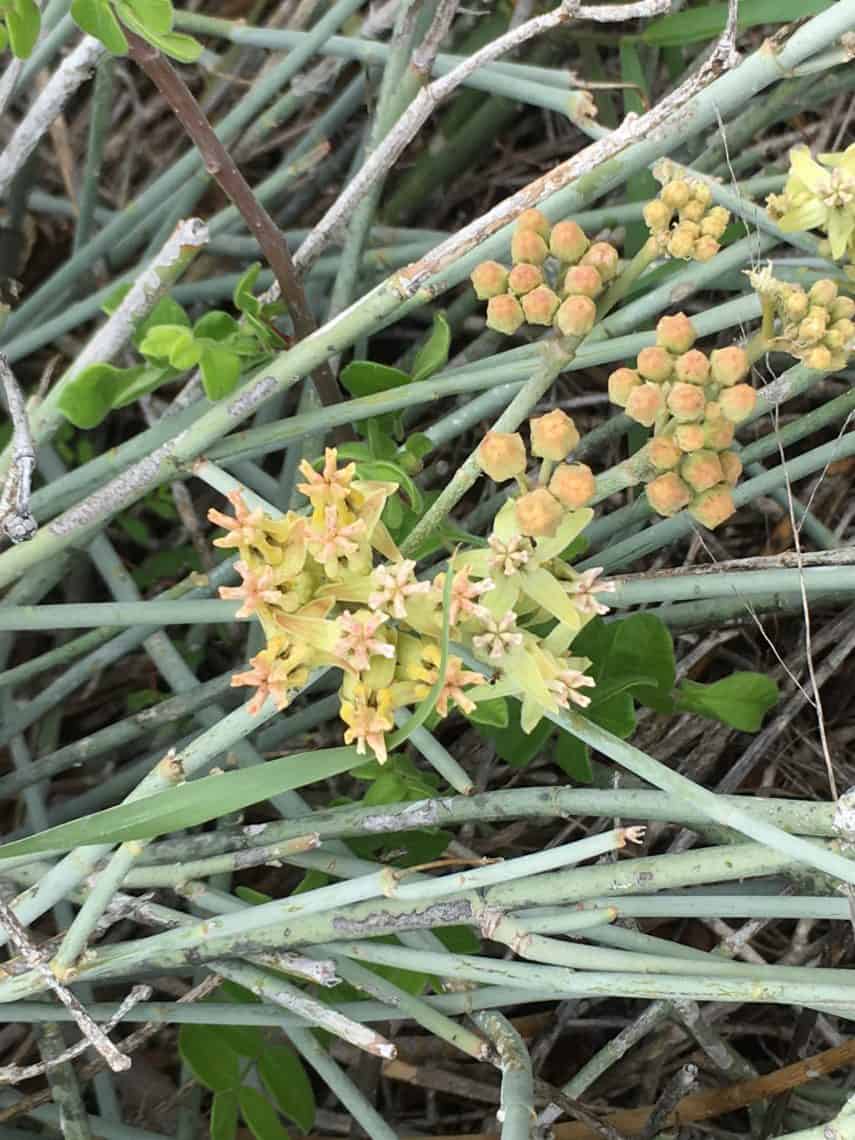 The Desert Milkweed (Ascelpias Subulata), is a native host plant for monarch butterflies in Arizona (photo courtesy of Sergio Avila).
By Sergio Avila, Conservation Scientist
Imagine an insect capable of bringing together the governments, scientists, and citizens of three nations in an effort to reverse its decline and restore healthy populations throughout North America. That insect is the monarch butterfly, possibly the most beloved insect in the world. Best known for their incredible annual migration of thousands of miles from locations in Canada and the United States to fir forests in central Mexico, monarchs have become conservation ambassadors in North America.
Monarchs arrive in Mexico around 'Day of the Dead' in the beginning of November, where local traditions hold that they are the souls of dead relatives, coming back to visit in the shape of a colorful butterfly. The "discovery" of those pine and fir forests in Mexico where monarchs spend the winter, over 40 years ago, was a major finding for the broader scientific community, but not for the local people who have lived in and around those mountains for hundreds of years.
The Sonoran Desert region plays a role in monarch migration, and residents are fortunate to be able to see them. Danaus plexippus, as the monarch butterfly is known in scientific circles, is present and at times abundant in Arizona and Sonora at different elevations throughout the year, especially in riparian areas. Breeding populations, adults and caterpillars, have been observed in Arizona at all elevations seasonally. They use a variety of native milkweed plants for nectar and for laying their eggs. However, much is still not known about monarchs in Arizona and information about these butterflies in northern Mexico is scant.
Over the last decade, the Southwest Monarch Study, an organization dedicated to researching the migration and breeding patterns of monarch butterflies in the U.S. Southwest, has found that some monarch butterflies in Arizona migrate to Mexico, while others to California. Both breeding and migrating monarchs are frequently seen in city backyards and parks when milkweed and other food sources are available. The migration window for D. plexippus in Arizona begins in early September through middle-October, with occasional late migrators in November.
Monarch life cycle and migration
Like all butterflies, the monarch undergoes an amazing metamorphosis from egg to adult. A monarch's life starts on a plant commonly called milkweed – a plant of the genus Asclepias. Here, female adult monarchs deposit tiny white eggs, from which a small caterpillar emerges some days later. The caterpillar grows very fast, feeding exclusively on milkweed leaves, and excreting "frass" (butterfly lingo for poop) – round or cylindrical droppings with the shape of a grenade. During the following weeks, the caterpillar will grow up to 2,000 times bigger! It is preparing for its next life stage: the pupa or chrysalis, from which a strong, winged adult will emerge.
Scientists have developed a safe method for studying the migratory movements of monarch butterflies across large landscapes by tagging individual butterflies. The involvement of citizen scientists has been key to building networks to record monarch movements across North America. "Tagging" means carefully capturing a butterfly, placing a small sticker containing a serial number and an email on its hind wing, and then releasing the individual to continue its natural movements. When a tagged monarch arrives at a garden to feed and rest, an observer can contact the research team via the information on the tag and share the tag number, location, date, weather conditions, and more. Thanks to tagging and monitoring efforts, scientists now know that there is some overlap in the eastern and western populations.
Around the end of October monarchs arrive in Mexico's "Monarch Butterfly Biosphere Reserve" to overwinter in temperate forests above 9,000 ft. The Reserve is a World Heritage Site, located along the Mexican trans-volcanic belt in the states of Michoacán and Estado de Mexico. When they arrive, monarchs alight on trees, forming gigantic colonies that bend the branches with their combined weight and cover the ground, arroyos, and sky like fluttering orange and black clouds. They spend the winter months there until temperature changes favor their migration north in the spring. With this environmental change, monarchs mature, start breeding, and initiate their migration north. From here, it will take several generations to once again complete the annual migratory cycle.
So, what's the problem?
North American monarch populations have decreased drastically over the last decade, and are threatened by habitat destruction in all parts of their range and a changing climate.
Widespread use of herbicides, especially those containing glyphosate, has greatly reduced milkweed populations throughout much of the breeding range of the eastern monarch population. Milkweeds are the obligate host plants for monarch caterpillars. Without milkweed, females have nowhere to lay their eggs and caterpillars have nothing to eat. In addition, insecticides known as neonicotinoids, which are used in both agricultural and urban landscapes, may pose a threat. Neonicotinoids are absorbed and distributed throughout the plant, to leaves, nectar, pollen, and woody tissue, rendering all parts of the plant toxic to the insects that might feed upon them.
Monarchs are also faced with a rapidly changing climate. In the past, severe storms in their overwintering grounds in Mexico have resulted in drastic butterfly losses. A smaller overall population will have a harder time bouncing back after such events, which are predicted to occur with greater frequency in the future. Other threats include logging in overwintering sites in Mexico and the loss of overwintering sites in California to urban development.
School, park, and backyard gardens work effectively as rest stops, helping monarchs refuel and continue their migration. Gardens also host a diversity of other insects and birds, and provide an opportunity for quiet observation, relaxation, and a healthy lifestyle. The educational and recreational benefits of sharing with younger generations the opportunity to observe, identify, and document butterflies in their own garden are limitless.
There is much you can do to help the monarch at any scale. Use native, nectar-rich plants in your landscaping, avoid the use of insecticides or herbicides including neonicotinoids or glyphosate, volunteer to enhance pollinator habitat in your area, join a citizen science effort, and support the groups working to address the ongoing threats and challenges.
Expanding habitat and monitoring networks, especially across international borders; working with partners on research, education, and habitat restoration, we hope to better understand the role of Sonoran Desert habitats in supporting healthy monarch populations.
For more information visit: