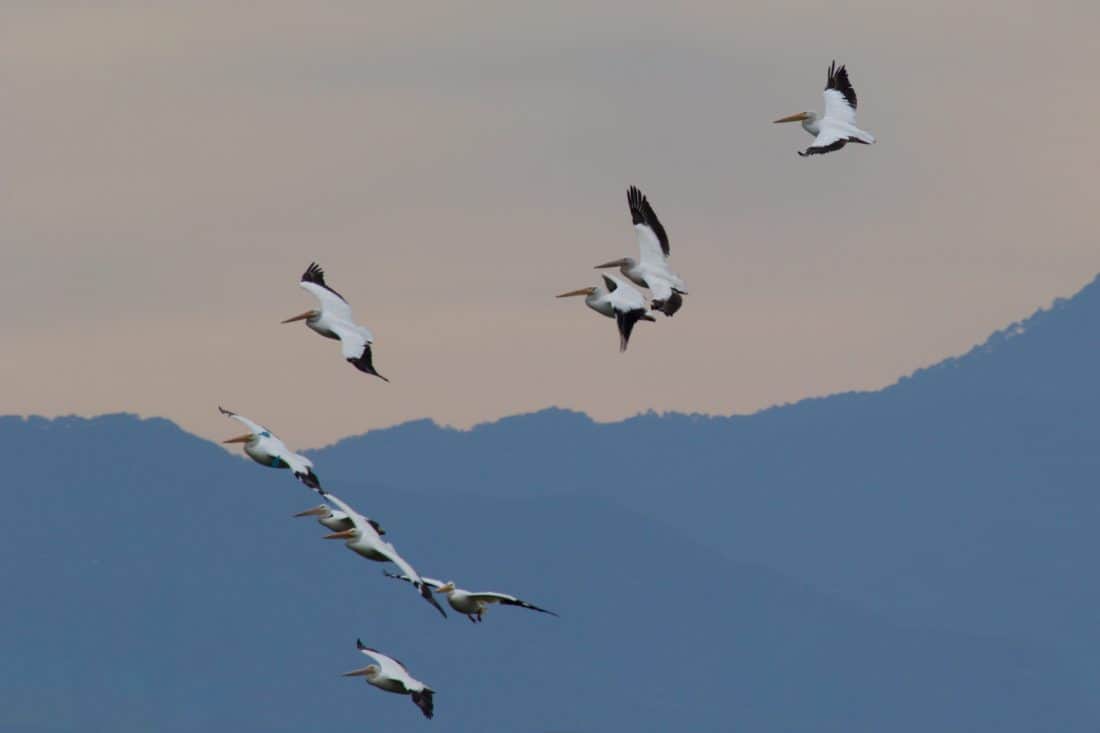 American White Pelican S14 with light blue tags was trapped as an adult at Strawberry Reservoir, Utah and later seen in Nayarit, Mexico (Photo courtesy of Mark Stackhouse).
By John Neill, Utah Division of Wildlife Resources
Few people are aware of how important Utah's Great Salt Lake is to American White Pelicans (Pelecanus erythrorhynchos). Although the waters around Gunnison Island are too salty for fish, the island is remote and protected from disturbance, which helps make it the largest pelican colony west of the Continental Divide.
With at least 8% of the entire continental population of American White Pelicans in the local area just for breeding and many others during migration, conflict can arise between pelicans and humans. The most serious concern is the potential of pelican-airplane collisions where the flight paths of pelicans and planes intersect. Fishery managers have also observed conflicts among pelicans and managed fish species, including state sensitive species like Bonneville cutthroat trout.
The Utah Division of Wildlife Resources has partnered with Salt Lake City International Airport, USDA-Wildlife Services, Tracy Aviary, U.S. Fish and Wildlife Service, and Utah State University to study and lessen these conflicts. Two aspects of our research are placing bands and wing tags on young, flightless pelicans at Gunnison Island, and trapping adults in the surrounding wetlands of Great Salt Lake and fitting each one with a solar-powered, GPS transmitter.
The unique, alphanumeric code on the wing tags allows biologists and citizen scientists alike to more easily identify and track the pelicans through the course of their lives. Reports of tagged pelicans give us information concerning life span, nest site fidelity, survival rates, population estimates, age at first breeding, and behavioral and social habits. The satellite transmitters give us detailed information on regional foraging areas, migratory pathways, and wintering areas.
While protecting pelican breeding colonies is critical, pelicans also need sufficient migratory stopover locations and wintering areas to complete their life cycle. Pelicans from Great Salt Lake have dispersed to 16 different states as far away as Montana, Iowa, Texas, and California, but most end up wintering in the southeastern part of the United States and Mexico. Safeguarding wintering habitat in Mexico is essential for the survival of this species.
Last year, 16 of 17 pelicans with active transmitters spent the winter in Mexico. Most of these pelicans visited lakes, reservoirs, wetlands, and estuaries along the Pacific Coast in the states of Sonora, Sinaloa, Nayarit, and Jalisco. One bird we named Pedro ended up on the western coast of the Baja Peninsula, while Bartholomew found adequate habitat near the Gulf of Mexico west of the Yucatán Peninsula. Anyone can view these movements through the PeliTrack webmap.
We have also received seven reports from Mexico of pelicans with wing tags from Utah. Two of these reports were of the same pelican, wing tag UT12 G03, which was banded on Gunnison Island on June 20, 2012. It was first seen the following January in Magdelena Bay on the western coast of Baja California Sur. Thirteen months later it, was photographed by SJV board member, Eduardo Palacios at the small town of Adolfo López Mateos, just about 50 kilometers north of Magdelena Bay.
Since 2011, over 2,600 juvenile pelicans on Gunnison Island received green wing tags, but we have also captured adults at Strawberry Reservoir, Utah. Fifty-two of these pelicans received light blue tags with pelican S14 being photographed in Nayarit a year and a half after being tagged.
During your travels, you may also see pelicans with red or black wing tags. These birds were banded in Idaho at Minidoka National Wildlife Refuge and Blackfoot Reservoir, respectively. Please contact me, or reportband.gov to report any tagged pelicans you see. Capturing this important information helps us understand movement patterns of American White Pelicans in order to help conserve the species.
About the author: John Neill works as an Avian Biologist for the Great Salt Lake Ecosystem Program. He began with the program in 2001 and has developed a deep appreciation of the Great Salt Lake and its abundant life by conducting lake-wide bird surveys.