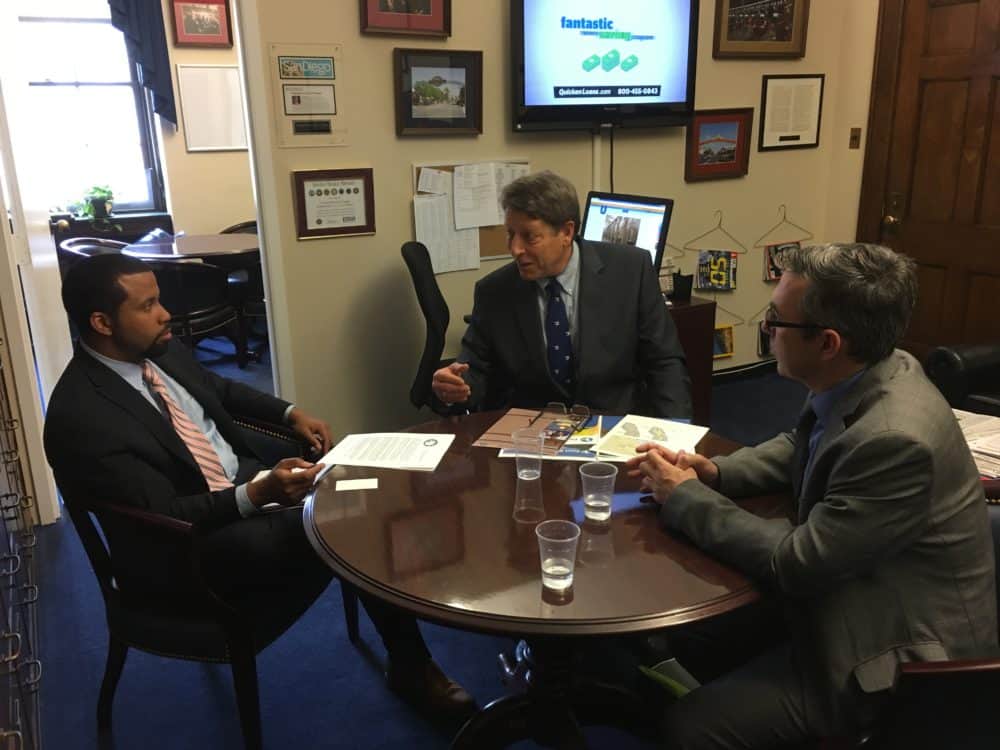 Members of the Sonoran Joint Venture Management Board recently returned from a week-long trip to Washington, D.C. where they met with members of congress and natural resource agencies to share on the ground success stories made possible through the SJV and other Migratory Bird Joint Ventures across North America.
SJV Board Chairman Geoff Geupel of Point Blue Conservation Science, board member Francisco Abarca of the Arizona Game and Fish Department, as well as SJV partner Mike Lynes of Audubon California, met with Congressional staff and members of Congress representing the SJV region, including Reps. Raúl Grijalva, Kyrsten Sinema, Martha McSally, Tom O'Halleran and Paul Goser of Arizona, and Rep. Juan Vargas from California. These SJV Board Members also participated in meetings with Natural Resource Conservation Service representatives alongside other Migratory Bird Joint Venture leaders.
"It was my first time proudly representing the SJV. It is always an honor to talk to members of congress and to share the great things the Migratory Bird Joint Venture program makes possible," said Abarca.
The purpose of the visits was to educate members of Congress and their staff as well as resource conservation agencies about the SJV and other Migratory Bird Joint Ventures and share the successes of these public-private partnerships in conserving birds and their habitats, which provide tremendous ecological and economic benefits to states. For example, in southern Arizona alone, more than half a million people participate in bird watching activities each year, contributing nearly $850 million to southern Arizona businesses annually.
Abarca reported that they had great and productive conversations with members of congress and their staff, in particular with the offices of Reps. Raúl Grijalva, Kyrsten Sinema, and Martha McSally. All were already familiar with the SJV and expressed interest in learning about what projects are taking place now and are planned in the future.
"The fact that these members of Congress were already familiar with the SJV served as confirmation of the importance of keeping in communication with representatives and senators," said Abarca.
It wasn't all work and no play for Abarca, who had the chance opportunity to meet William Sanford "Bill" Nye, popularly known as Bill Nye the Science Guy, in the halls of Congress. The two just happened to be in the same place at the same time. After exchanging a few words about science and climate and the importance of continuing the education process for those who are not convinced, Abarca got this photo proof of their meeting.
Thank you Francisco, Geoff, and Mike for working diligently to represent the SJV and all Migratory Bird Joint Ventures!