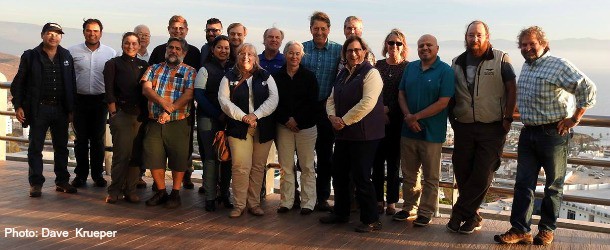 In December 2016, the Sonoran Joint Venture Management Board met in Ensenada, Baja California. Hosted by the Ensenada Center for Scientific Research and Higher Education (CICESE), the two-day meeting was an opportunity for board members to discuss current business, learn about the work of SJV partners, and visit a field site where partners are working to protect birds and habitats.
The Board, which is made up of binational representatives from both the U.S. and Mexico, provides strategic guidance, leadership, and support to the Sonoran Joint Venture. It includes representatives from federal and state agencies, non-profit organizations, and academia, with space for private citizens and others with an interest in the conservation of birds and habitats within the SJV region. (For a full list of members, click here.)
A few highlights from the meeting:
The Board spent a morning exploring Punta Banda, a wetland of high importance for birds like Sanderling and other shorebirds, Black Brant, and many others.
Following the board meeting, the SJV Science Working Group (formerly called the Technical Committee) met in Sierra San Pedro Mártir. They visited Parque Nacional Sierra San Pedro Mártir and learned from park director Gonzalo de Leon and his staff about efforts to reintroduce California Condors to Baja. This successful collaboration between CONANP, the San Diego Zoo, and the U.S. Fish and Wildlife Service has resulted in 39 condors now gracing the skies of Baja California.