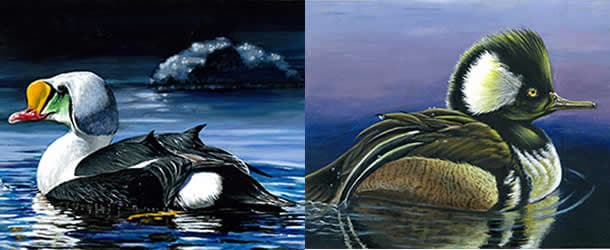 The Federal Junior Duck Stamp Conservation and Design Program is a dynamic arts and science curriculum that teaches wetlands and waterfowl conservation to students in kindergarten through high school. One of the highlights of the program is an art contest, where young people from across North America submit their waterfowl drawings and paintings to state contests. The "best in show" from each state moves on to the national level. The winning design from the national contest is used to create the Junior Duck Stamp for the following year (funds from the sale of the stamp support conservation education and provide awards and scholarships for the students, teachers, and schools that participate in the program).
This year the Sonoran Joint Venture is coordinating the contest in Arizona, and we need your help! Do you know a young person with an interest in art and birds? Please share information about the contest and encourage them to submit a painting or drawing. The deadline to submit an entry is March 15, 2015.
If you are interested submitting an entry, being a judge, or just learning more, contact SJV Education and Outreach Coordinator Jennie Duberstein.