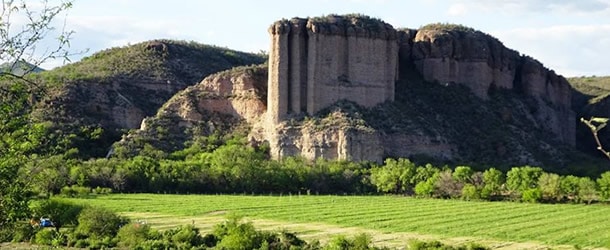 Contributed by Sky Island Alliance
University students from three cities in Sonora, Mexico, are getting hooked on birding, wildlife, and habitat restoration, thanks to Sky Island Alliance, with funding support from the Sonoran Joint Venture. It all started with a mid-winter camping trip in January 2015 with students from Cananea, Moctezuma and Hermosillo to the Whitewater Draw State Wildlife Area in southeast Arizona to see 30,000+ Sandhill Cranes and other species. Some students were unable to join the field trip, so the Alliance held a spring restoration workshop in Sonora in March 2015. There, students learned about migratory birds, as well as low-tech creek restoration techniques. The goal: to give them skills to improve habitat for birds and wildlife in their own communities.
Below are journal entries from Christopher Morris, Sky Island Alliance's former restoration coordinator, about his experience leading the workshop.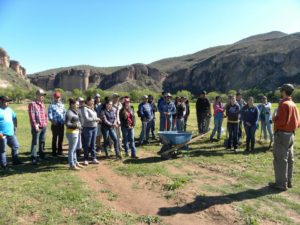 Friday, March 20, 2015
Sky Island Alliance volunteer (and my "ringer" for bird identification) Ryan Gillespie and I leave Tucson around 8:00 am. First stop: the Instituto Tecnológico Superior de Cananea (ITSC) where we pick up Professor Guillermo Molina, and we're off on our final leg of the journey to the workshop site at Los Pilares de Tetuachi near Arizpe along the Río Sonora. We scout the area and confirm the project demo sites while awaiting our workshop attendees. By 5:00 pm our ranks have grown to include 27 people – mostly students from Cananea, as well as a quartet from Hermosillo. We do introductions after the group sets up their tents, and then talk a little about what else is on the docket for the weekend. The group takes care of chores: digging a latrine, gathering firewood and digging a fire pit. S'mores are a novelty for the group and a big hit! Guillermo's sighting of a Western Screech-Owl near tomorrow's work site caps off the night.
Saturday, March 21, 2015
The group from Moctezuma arrives right on schedule around 8:30 am. We do introductions as a larger group. The day's exercise: build a one-rock dam to detain water and sediment. We head out to the site and review safety before laying out the steps and talking about what success would look like over time. The group works hard and knocks it out with everybody participating.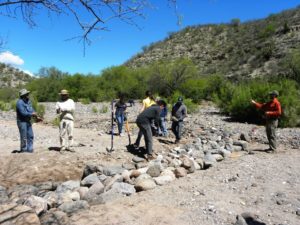 We wrap up shortly after 11:00 am and do plant identification on the way back to camp. We stop to talk about hackberry, eucalyptus, mesquite, willow, cottonwood and walnut, among others. After a relaxed lunch, Ryan and I lead a talk about bird habitat and bird migration. I use maps from eBird to show migration of Swainson's Hawks that overwintered in Argentina and moved north through Central America.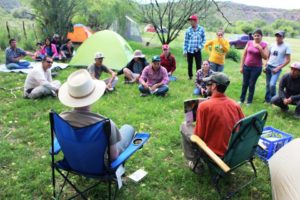 Although eBird sightings from AZ and CA have tracked dozens of them in the past 30 days, they are conspicuously absent from most of Sonora. Our bird checklists for eBird from this weekend's trip will be a good lesson for the students. They can contribute in a meaningful way, even if they're not experts. Up to this point we've identified about 50 bird species. Sulphur-bellied Flycatcher, Gray Hawk and Rufous-backed Robin have all made appearances.
Sunday, March 22   
The hooting of a Great Horned Owl in the cool, dark hours of  pre-dawn wakes me up. I don't need to look at the time to know that it's still way too early for the group to be up. I take off on my own through the gate and head upstream along the river. The one-two punch of last September's hurricanes did some major reconfiguration to the floodplain. The force of the swollen river washed away roads and ripped out barbwire fences. But the banks had received generous helpings of rich sediment. It was the perfect foundation for today's exercise with the students: riparian reforestation with Goodding's willow and seepwillow. Among the ubiquitous Northern Cardinals and sparrows, I pick out a Hermit Thrush, a Yellow-rumped Warbler and a hummingbird that looks an awful lot like a Violet-crowned. Around 9:00 am we have all had a chance to get some food so I group us up to talk about the process of pole planting. We spend the next hour split up into smaller groups. We rove the riverbank harvesting "whips," trimming them down, and planting them in clumps of three with the tips angled downstream. When higher waters come, this method adds extra protection. Even if the sapling farther upstream gets torn up by a debris flow, the other two poles might live on through the sacrifice of the first.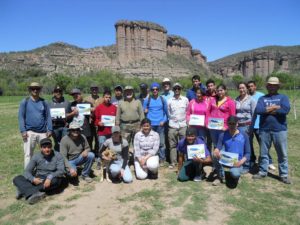 I've printed off training certificates for everybody and hand them out before we take off for home. Several of the students ask me when the next event will be, but it's too early to tell. For now, we've had an excellent time in each other's company, detecting 62 species of birds at the foot of the phenomenal Pilares de Tetuachi.
To learn more about this or other Sky Island Alliance projects in the region, contact Restoration Director Carianne Campbell.