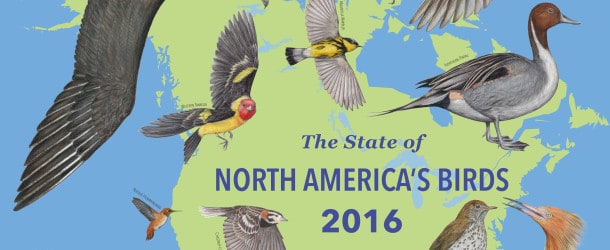 A new report from the North American Bird Conservation Initiative (NABCI) is calling attention to the need for urgent conservation action for hundreds bird species and their habitats across North America. The State of North America's Birds 2016 is the first conservation vulnerability assessment of all 1,154 native bird species in Canada, Mexico and the continental United States. The assessment shows that more than one-third of these species are at risk of extinction without significant conservation action.
The report was released on May 18, 2016 at the XXI Meeting of the Trilateral Committee for Wildlife and Ecosystem Conservation and Management in Ottawa, Ontario in conjunction with the celebration of the 100th anniversary of the Migratory Bird Treaty between Canada and the U.S., and the 80th anniversary of a similar treaty between Mexico and the U.S. It is the result of a unique collaborative effort of scientists, other partners, and tens of thousands of citizen scientists in the three countries.
Major findings: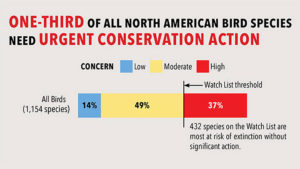 • Out of the 1,154 bird species included in the assessment, 432 are on the Watch List, which designates species that are most at risk of extinction without significant conservation action. Species of major concern range from Laysan Albatross to Allen's Hummingbird.
• Birds in ocean and tropical forest habitats are in crisis. More than half of the bird species in these ecosystems are on the Watch List. Small and declining populations, small ranges, and severe threats to their habitats are impacting species in these two habitats.
• Many species in coastal, grassland and aridland habitats are declining steeply. In particular, long-distance migratory shorebirds and species that migrate from the Great Plains to Mexico's Chihuahuan grasslands have lost, on average, almost 70% of their continental populations since 1970.
• Most species in temperate forests, tundra, wetlands and boreal forests are of moderate or low concern; however roughly 20% are still on the Watch List. Waterfowl have benefited from careful harvest management and wetland conservation, but positive waterfowl trends may not last if wetlands loss continues.
• The generalist group—birds that are adaptable and can live in multiple habitats—are of lowest conservation concern.
Despite the challenges that North American birds face, the report also notes that much progress has been made to conserve wetland and waterfowl habitats and the bird species that use these ecosystems thanks to programs such as the Duck Stamp and North American Waterfowl Management Plan. Report authors urge continued investment in these and other programs that conserve vital bird habitats.
More information about report methodology, the complete bird species assessment database, animated maps and other resources are available at stateofthebirds.org.