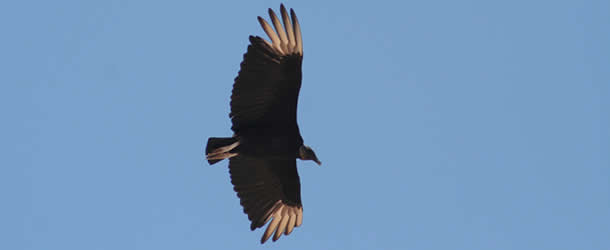 You might remember last year the SJV supported researchers from Hawk Mountain Sanctuary on their New World Vulture Project. We spent a week in the hot weather of late May trapping Turkey and Black Vultures, putting satellite transmitters on them and taking a few measurements to learn more about where they migrate. The goals of the project? Routinely monitor seasonal populations of New World vultures in North, Central, and South America; prevent catastrophic population declines by sharing information learned with conservation partners; and Turkey and Black Vultures as environmental sentinels of ecological change and environmental contamination, including climate change and heavy metal contamination.
The SJV was thrilled to provide logistical support for last year's effort, so Hawk Mountain contacted the SJV to ask for logistical support again this year, the SJV was very happy to oblige. We had the same crack field team as last year: Keith Bildstein and Jean Francois Therrien from Hawk Mountain Sanctuary, Marc Bechard from Boise State University, and the SJV's own Education and Outreach Coordinator, Jennie Duberstein.
We changed field sites this year, working near the town of Buckeye, Arizona. Over the course of a week we successfully caught seven vultures (six Turkeys and one Black). Happily, none showed dangerous levels of lead in their system, and we fitted all of them with satellite transmitters that will send location information to the researchers. You can check out the locations of all of the birds here (scroll down to "Arizona" to see the ones we trapped this year; you can also view details for all of the birds around the world that have been tagged as part of this effort. 
Read Keith Bildstein's account of the trip here, or learn more about the overall project on the Hawk Mountain website.