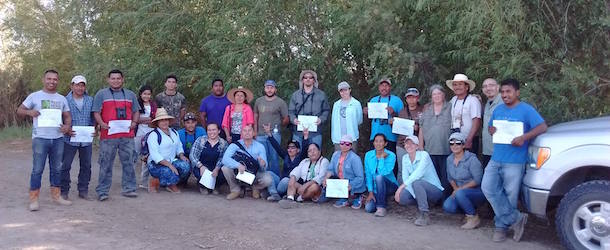 By Jenna Stanek and Diane Tracy, Southern Sierra Research Station
The western Yellow-billed Cuckoo, a distinct population segment from the eastern Yellow-billed Cuckoo, has experienced long-term declines. It has been extirpated from most of its historical range in the United States. In 2013, the U.S. Fish and Wildlife Service estimated that the western cuckoo population had dwindled to 680-1,025 pairs, with approximately half in the U.S. and half in Mexico. While it is estimated that half of the western cuckoo population breeds in northern Mexico, knowledge of the bird's breeding use of Mexican habitat is limited and largely unknown.
With funding support from the Sonoran Joint Venture Awards Program, our goal was to provide cuckoo survey training to regional Mexican biologists to spark interest in increasing knowledge of the cuckoos' habitat use and distribution in Mexico. The Southern Sierra Research Station (SSRS), working in collaboration with Nature and Culture International Reserva de Monte Mojino staff, and staff from Pronatura Noroeste, trained biologists in the classroom and the field to conduct standardized cuckoo surveys. The use of standardized cuckoo surveys in Mexico, conducted in the same manner throughout their North American Breeding range, enables comparable estimates of habitat occupancy and abundance. This will allow researchers to better understand cuckoo decline and overall estimated population numbers throughout the cuckoo breeding range. Skills obtained through this survey training can be used in the future by Mexican biologists to help fill in the gaps of cuckoo occupancy uncertainty and identify Important Bird Areas for the western Yellow-billed Cuckoo in Mexico.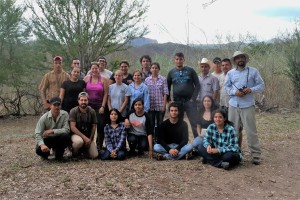 Workshop attendees came from Pronatura, the Sonoran Institute, CONAFOR, CONANP, CEDES, and students from different universities. In addition to receiving in cuckoo survey protocols, this diverse group returned home and undertook volunteer surveys along the lower Colorado River in Baja California, in Reserva Monte Mojino in Sonora, and near Monte Mojino in Sinaloa. They submitted all western Yellow-billed Cuckoo observations (as well as other birds seen during surveys) to eBird, providing important data for the future conservation for this elusive species.